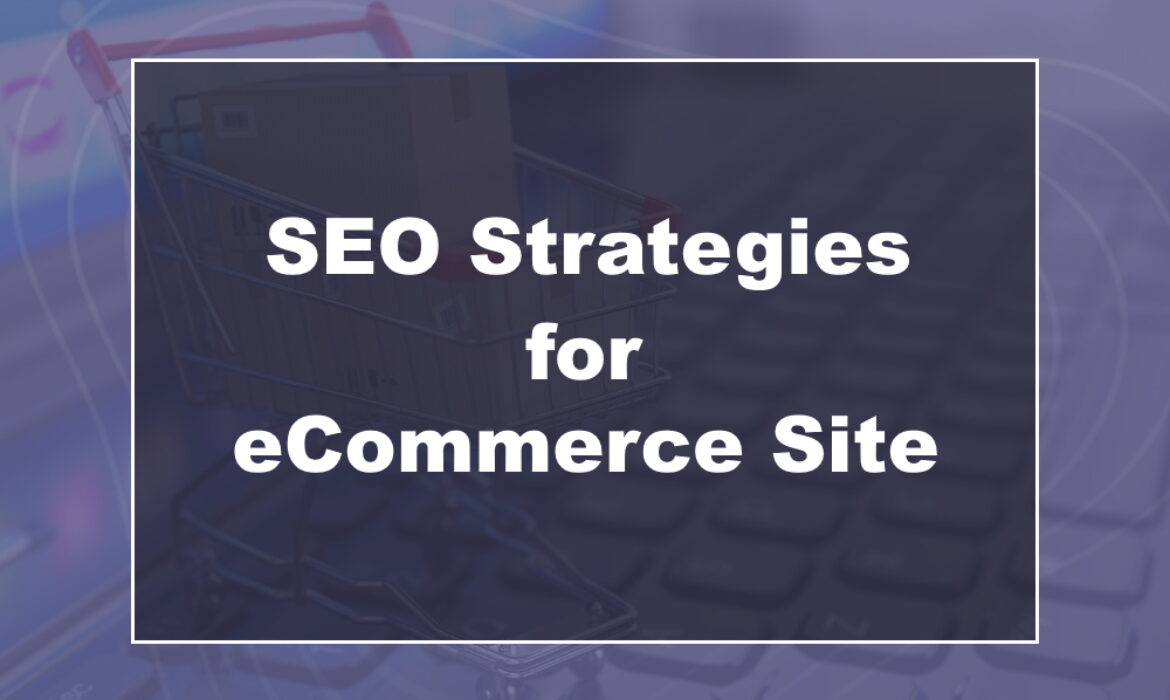 A lot of people are down on eCommerce right now. They think it's getting too competitive, there are too many other players in the market, and they can't make a great return.
Well, this is not the case. You can win at eCommerce, and you can win big with the right strategy.
6 Best SEO Strategies for eCommerce Site
Let's discuss how you can get more organic traffic for your eCommerce website by following the simple things.
Let's dive right into it.
1.  Dynamic Optimization
The first thing that most people don't realize is that when it comes to eCommerce SEO, you have to do dynamic optimization.
So, what is dynamic optimization?
It is when you use a set of rules to optimize your entire website. You can optimize your category, your sub-category and everything else even your product.
When you set up your website, your eCommerce site with dynamic optimization will give you all the control.
What it means is you can use a template to optimize any segment of your website from the top category to down. You have to be doing this.
The reason for doing this is you can make an update to the template, and then that can update all of the pages on your website at once, improving things like your:
Title
Meta description
H1
H2
Image optimization
Image file name
Image alt text
When this happens, you can get in different keywords in there that rank higher. As a result, you can increase your:
Click-through rates
Conversion rates
Rankings
So, you should do dynamic optimization. In addition to dynamic optimization, you should also test your dynamic optimization.
Hence, if you test a thousand pages on one template for a new title, description, H1, H2, and that works by adding something like:
The word "best"
Number of products
Number of reviews you have within a category title
If this increases your click-through rates, then what you want to do is take that segment, and what you learned from that segment, you have to toll it out to the rest of the website so you can get more clicks for the real estate that you already have in Google.
2. Internal Linking
The second thing for eCommerce SEO is getting more traffic for your eCommerce website. You need to do internal linking.
The way you do it is quite important. So, you want to deliberate internal linking from your homepage, your global header, and your footer.
Make sure the most important pages on your website are linked to that header and footer.
When you do that, it's going to tell Google that these are the most important pages and you want to rank these the highest. Hence, ensure that you have your money-making pages here.
You also want to ensure that Google can crawl your navigation, and get to any page on your website quickly, and the most important pages need to be in your navigation.
You also don't want to have more than 200-300 pages in your navigation or on any page on your eCommerce website because when you have too many links, what happens is Google gets confused and devalues the links.
There is this thing called page sculpting which refers to the idea that you want to be deliberate with the specific links that are on the page so that Google passes the right amount of link weight to the pages that you want to rank the best.
Within each category, you want to link to all subcategories. If you have a copy on a specific category page, you want to internally link within that copy to the other pages that are on the same level that you want to get ranked high.
Also, lower in that category you want to link to your product pages. When you link to your product pages, Google is going to see the products, categories, and subcategories that are linked to within that category.
This will allow that page to distribute internal linking to all the most important pages around the website.
Finally, on the product level, you want to link to other similar products and categories within that product copy.
Doing so will create a beautiful spider web of internal linking distribution to other pages on the site and that's going to allow Google to crawl it, and rank your website better.
3. Technical Issues
E-commerce websites have a ton of technical SEO issues that you can solve by taking SEO services. Here are some of the most important technical issues:
Search pages
If somebody goes into a search box to search for something, that generates a URL. You need to make sure that those are blocked and don't get packed up in Google.
Facet Navigation
You want to make sure that you have clean navigation that's 100% optimized dynamically.
Make sure that it's not creating tons of URLs, there is no structure to it, and it doesn't create hundreds and thousands of pages that shouldn't be in the index because they compete with the rest of the site.
Filters
Often filters within an eCommerce site will create tons of different URLs. You need to make sure that those are blocked. Those shouldn't be in the index at all. So, click around on your filters, and see if they create any additional pages.
Pagination
Google used to have this thing called rel next rel prev. They have gotten rid of it now.
So, now for pagination, you need to be extra careful about what you allow in the index. Generally, the best thing is to now allow any pagination in the index- allow that main category page to rank.
4. Content
One of the major things that people do that's an issue is they create too many categories. Of course, you want to rank for all these terms on your eCommerce site, but creating too many categories thins the content.
Unique Products in Each Category
You have to make sure that you have got at least 5 to 10 unique products in each category because otherwise, you don't have enough inventory to satisfy the requirements for a category ranking in Google.
Concise Content
You don't want the content to get too long. So, if you put content on a category page, that's good.
But you don't want to have over 500 words what people have been trying to do is put 3000, 5000 words onto a category.
This practice was working for a little while, but now Google has started to interpret those things as articles instead of categories. The last thing you want is for Google to consider your categories as articles.
Digital Marketing
It is something you absolutely should be doing. It's super important for your link building and getting traffic.
But you want to make sure that your content and digital marketing don't compete with the same terms that you are trying to get ranked within your category, subcategory, and products.
There are so many eCommerce websites that cannibalize their rankings to their pages that will convert much better with digital marketing. So, don't make that mistake.
5. Linking
Every single eCommerce website that wants to do well in SEO needs to be blocking bad links on monthly basis. So, block them in your disavow files to make sure you have got a clean backlink profile.
You want to be building links. You need that domain authority. That's the way that you are going to rank, and beat out all the other retailers and competitors. Hence, ensure that you have a link-building plan in your mind.
6. Review Generation Strategy
All eCommerce websites need to have a review generation strategy. The same goes for directory websites. For any website with this type of framework, you need to be generating reviews.
These reviews are what help your product pages rank better. They are what add unique content to your website so you don't have to do it yourself.
The more reviews that you have that are 100% unique and haven't been placed on other websites, the better you are going to rank.
So, you must have a review generation program for your website on the product level. You also need to make sure that your product descriptions are unique.
Sometimes, what happens is a new website will start, they just grab product descriptions, and then they put it on the site, and you have got hundreds and thousands of products on your website.
You think this is great, how come they are not ranking? Well, it's because you took the product description from the manufacturer, you don't write anything unique, and that same product description is on hundreds and hundreds of other websites or more.
That's why eCommerce websites need to do large-scale content projects where they are writing a unique content and also generating unique reviews.
Any eCommerce site, especially if you have your products, must be doing distributed e-Commerce. You have the biggest opportunity out there that eCommerce sites ever had.
You can now sell on Amazon, Walmart, BestBuy, and other such websites that have a huge audience.